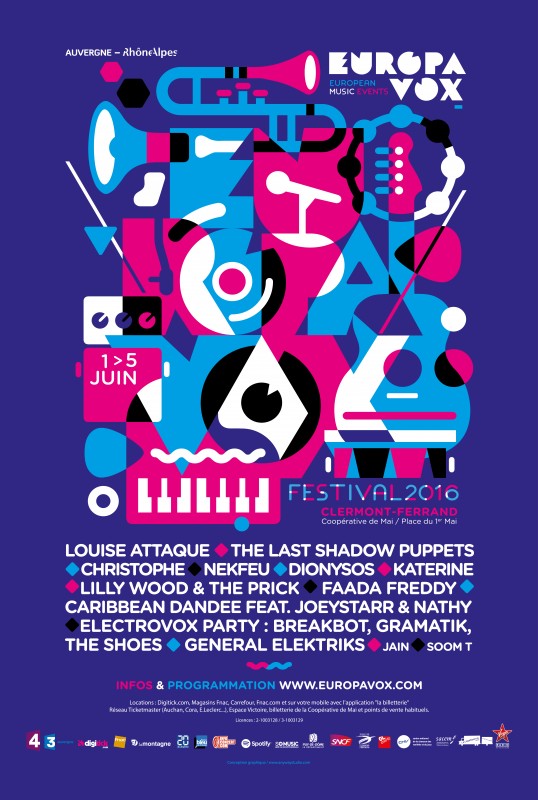 2016
Programmation du festival en 2016 :
Christophe, The Last Shadow Puppets, Louise Attaque, Dionysos, Nekfeu, Lilly Wood & The Prick, Electrovox Party : Gramatik / Breakbot / The Shoes, Caribbean Dandee, Jain, Katerine, Faada Freddy, General Elektriks
et plus de 30 découvertes européennes : Alice on the Roof, L.U.H, Sara Hartman, Soom T, Le Colisée, Jardier, Carnival Youth, The Chikitas, Repetitor, Rocky Marsiano, Middlemist Red, Wrongonyou, Olivier Heim, Declan Mc Kenna, Kentaur, Pauw, Yak, The Academic, Have you ever seen the Jane Fonda aerobic VHS, Golan, Garbanotas Bosistas, Mynth, Bombay, All Tvvins, Barotti, The Wackids, Svper, Go!zilla, Zen, Scarred, The Canyon Observer, SNKLS, Hasta, Populous, Ksiopai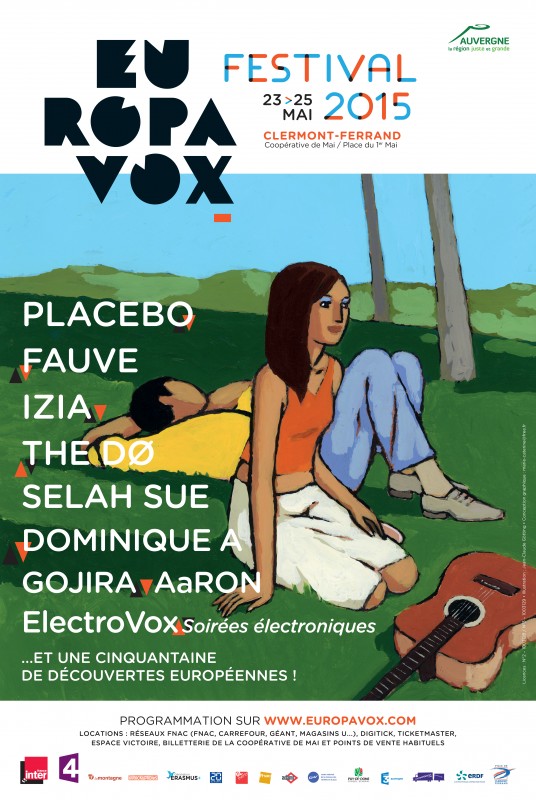 2015
2015, les 10 ans du festival !
Un anniversaire exceptionnel avec Placebo, Fauve, Izia, The Dø, Selah Sue, Dominique A, Gojira, Aaron, Meschell Ndegeocello, Carl Brat and The Jackals, Jeanne Added, Etienne Jaumet, Denai Moore,
et une trentaine de découvertes européennes : Heymoonshaker, Les Nuits Fauves, Fugu Mango, Igorrr, Robi, Avulsed, Mountain Bike, James Hersey, Jape, San Carol, The Dumplings, Joco, Godblesscomputers, Ganz, Beat me for a beat, New Wave Syria, Bror Gunnar Jansson, Matoma, Golden Doors, Alo Wala, Super Besse, Polygrains, Mourn, Kuenta Tambu, K-X-P, Napoleon Gold, Beissoul & Einius, Pethrol, A Toys Orchestra, Steaming Satellite, Puts Marie, Throes + The Shine, Les Frères Casquettes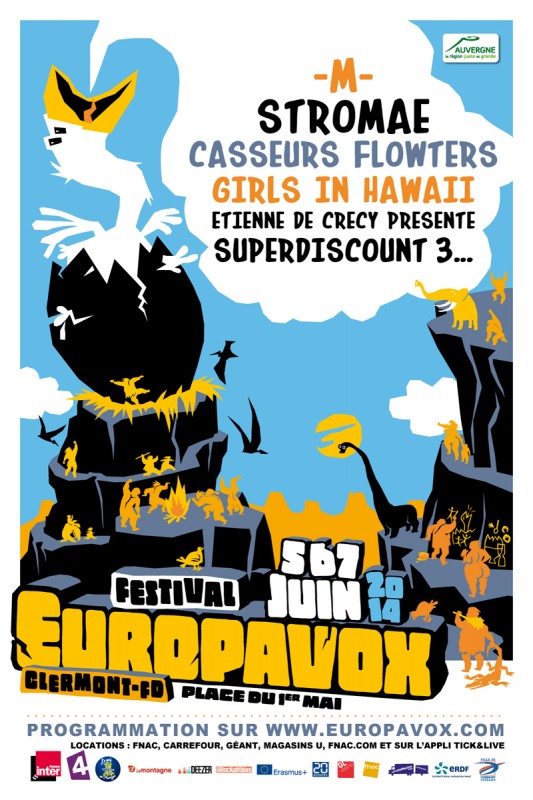 2014
Programmation du festival en 2014 : M, Stromae, Casseurs Flowters, Girls In Hawaii, Etienne de Crecy, Milky Chance, Mélanie de Biasio, Benjamin Clementine, Thomas Azier, Carbon Airways, Linkoban, My Little Cheap Dictaphone, Amatorski, Kadebostany, Salut C'est Cool, Bon Homme, Findlay, Larry Gus, DJ Pravda & Chef Berna, The Pepper Pots, Lydmor, Noiserv, Baskerville, La CafeteraRoja, Liz Green, Robbing Millions, The ExperimentalTropic Blues Band, Congopunq, The Best Pessimist, Pet, Artaban, Elliphant…
Programmation de la tournée en 2014 : Birth of Joy, Bombay Show Pig, CasualSex, Joycut, Larry Gus, Milky Chance, Natas Loves You, Paus.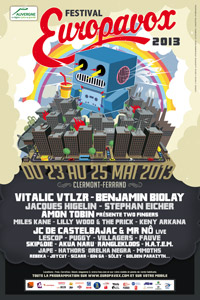 2013
Programmation du festival en 2013 : Benjamin Biolay, Disiz, Deluxe (France), Jacques Higelin, Fauve, VitalicVtlzr, AkuaNaru, Lescop, Lilly Wood And The Prick, JC de Castelbajac & Mr Nô live, Stephan Eicher, Amon Tobin présente Two Fingers, Arch Woodman, Baby Guru, China Rats, Garciaphone, Gin Ga, Golden Parazyth, Gracias, H.A.T.E.M, Hathors, Jape,  Joycut, KenyArkana, LiesaVan Der Aa,  Mein Sohn William, Miles Kane, Mmoths, Natas Loves You, Orelha Negra, Puggy, Rangleklods, Rebeka, Say Yes Dog, Sizarr, Skip & Die, Soley,  Swan Bride, Till We Drop, Tomorrow's World, VeenceHanao, Veto, Villagers
La première tournée Europavox en 2013 dans 10 villes de France : Clermont-Ferrand, Bordeaux, La Rochelle, Anger, Paris, Dijon, Villeurbanne, Nancy, Reims et Tourcoing avec :
Ewert& The Two Dragons, Brns, Funeral Suits, Great MountainFire, Holograms, Mikhael Paskalev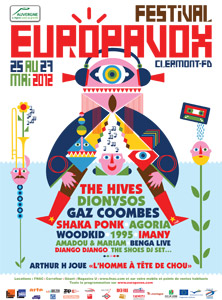 2012
Programmation du festival en 2012 :
1995, A Classic Education, Agoria, Amadou Et Mariam, Arthur H, AV, Baloji, Benga Live, Bernhoft, Boy, BRNS, Cadik, Dear Reader, Dionysos, Django Django, Dolls For Idols, Dynamo Team, Esser, Ewert and The Two Dragons, Freek, Fuel Fandango, Go Back To The Zoo, Imany, Keep Shelly in Athens, Keymono, Le Marquis de Jonard, Lecs Luther, Luno, Maia Vidal, Mirel Wagner, Mutiny On The Bounty, Odezenne, ShakaPonk, Stuck In The Sound, Sun Glitters, Sweet Sweet Moon, The Hives, The Kills, The Minutes, The Wackids (Europakids), Treefight For Sunlight, Twilite, We Trust, Wolfram, Woodkid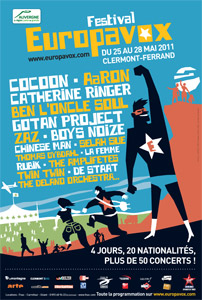 2011
Une 6ème édition mémorable : 25 000 festivaliers, un record et le premier concert au Forum Polydome ! 
Programmation de 2011 : Aaron, Ben L'Oncle Soul , Boys Noize , Catherine Ringer , Chinese Man, Cocoon, De Staat, Diver , Driving Dead Girl, DVA, Eternal Tango, Gotan Project, Hal Flavin, Happyendless, I HeartSharks, JD The DJ & Friends, Kamp!, La Femme , Le Galaxie, Low Frequency Club, Marsheaux, Morning Parade, NourishMyFame, Paula I Karol, Polock, PPE, Quadricolor, Rita Redshoes, Rubik, Selah Sue, Susanne Sundfor, The Amplifetes, The Delano Orchestra, The Good The Bad, The InspectorCluzo, Thomas Dybdahl, Très.B, Trouble Over Tokyo, TwinTwin, Zaz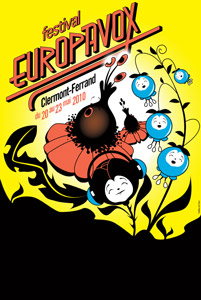 2010
Programmation de 2010 :
Agnes Obel, Amber Smith, Anna Aaron, Arno, Band of Skulls, Bigott, Boogers, Camelia Jordana, Dani Llamas, DJ Maurice, DJ Niss, Funeral Suits, Gaëtan Roussel, Groupe Tremplin Lycée, Hindi Zahra, HocusPocus, Inborn, Instrumenti, JD The DJ & Friends, JJ, Joensuu 1685, Kreisky, La CafeteraRoja, Las OndasMarteles, Mary's Flower Superhead, Mazgani, Mr Nô, Nive Nielsen And The DeerChildren, NMB Brass Band, Oskibarack, Peter Doherty, Pitcho, Plasticines, Rachid Taha featuring Mick Jones, Richard Hawley, The Black Box Revelation, The Disciplines, The Kissaway Trail, The Mad Trist, The Model, The Nits, The Requesters, Tokyo Sex Destruction, "UnknowPleasures" A Joy Division Tribute From Peter Hook, Violadores Del Verso.
2009
Programmation de 2009 :
17 Hippies, Airfare, Araban, Bloc Party, Cartonnage, Casiokids, Charlie Winston, Clarika et Florent Marchet, Collectif Classical, Collectif Kütu Folk, Declan De Barra, EbonyBones, Emily Loizeau, Garciaphone, GetWellSoon, Haris Pilton, Herman Dune, Hjaltalin, I'mfrom Barcelona, Leopold Skin, Lonely Drifter karen, LoneyDear, maximo Park, Mujeres, Mustang, Nobody Beats The Drum, Okou, Olivia Ruiz, powersolo, Renton, Saule, Sin Fang Bous, Sinister Saints, Sliimy, Soap & Skin, South Central, South Paw, Soy Un Caballo, The AsteroidsGalaxy Tour, The Cocknbullkid, The Glums, The Kim, Toxique, Toy Fight, Triggerfinger, Underwater Sleeping Society, UselessWoodenToys, Vitalic, ZakLaughed, Zebra Live Show, zzz.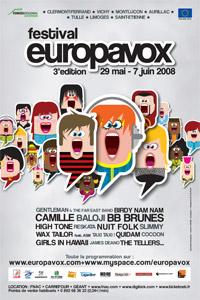 2008
Programmation de 2008 : Axel Bartsch, Baloji, BB Brunes, Birdy Nam Nam, Camille, Cast-a-blast Soundsystem, Clark, Cocoon, Cool Kids of Death, Dan le Sac VS Scroobius PIP, Demeter, Disco Ensemble, Empyr, Gentleman & The Far East Band, Girls In Hawaii, HafdisHuld, High Tone, HocusPocus, James Deano, Jim Yamouridis& Nicolas Syros playrébétiko, Joe Pelt, Karuan, Martin Confused, Permanent Fatal Error, Quidam, Reskata, Sanseverino, Seb Martel et Las OndasMarteles, Slimmy, Sophie Hunger, Sound of Choice, St Augustine, Taxi Taxi!, Têtes raides, The Amsterdams, The Delano Orchestra, The Legendary Tiger Man, The Sweet Vandals, The Tellers, Voicst, Vuneny, Wax Tailor VS ASM, Waxolutionists, Yuksek.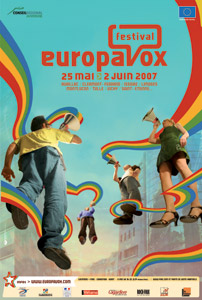 2007
Europavox, en 2007, propose plus de 50 concerts :d'Aurillac à Clermont-Ferrand en passant par Issoire, Limoges, Montluçon, Saint-Etienne, Tulle et Vichy!
Programmation de 2007 : 120 Days, 2 ManyDJ's, Aaron, Abd al malik, Agoria, Archive, Asian Dub Foundation, Catpeople, Cirkusfeat. Neneh Cherry, DJ Vadim, Edo Majkaa, Erih Sumo Band feat. Ezri Kiss, European Mix avec Dr Vince, Fused Marc, Goran Gora, Gus Gus, KacaniOrkestar, Kaolin, Khoiba, Le Peuple de l'Herbe, Le Puzzle, Longital, Martin Jondo, Nery et les Belgistans, Nosfell, Paprika Korps, Pete Philly&Perquisite, Peter von Poehl, Polar, Redbong, Rubik, Saule, Sharko, SixthSymfoni, Space Boys, Stephan Eicher, Sturcz Quartet, The Broken Beats, The Hormonauts, The Oezer, Thomas Fersen, Tom mcrae, Vive la Fête.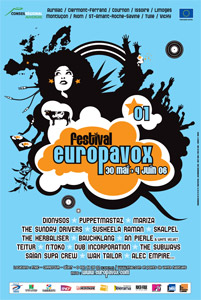 2006
C'est en 2006 que le festival Europavox est né d'envies et d'énergies d'acteurs culturels et du Conseil Régional d'Auvergne. Près de 12 000 festivaliers et 43 artistes de 18 nationalités vivent cette grande fête européenne. Pour cette 1e édition le festival se déplace dans une dizaine de villes françaises (Aurillac, Clermont-Ferrand, Cournon, Issoire, Limoges, Montluçon, Riom, ST-Amand-Roche-Savine, Tulle et Vichy) pour faire la promotion de la diversité musicale européenne.
Programmation de 2006 : Alec Empiren, An Pierlé& White Velvet, Anna Ternheim, Bauchklang, Balade Sur Un Chemin Etroit , Les Colporteurs, Beangrowers, Chullage, Claude Lévêque, Kafka, Culcha Candela, David Linx& Diederik Wissels Quartet, Dionysos, Dr Vince, Dub Incorporation, Fedayi Pacha, Fredrika Stahl, Invaders, Joint Venture Sound System feat. Activator, La Position du Tireur Couché, La Tropa, Lola Lafon& Leva, MagwamanRiddim Section, Malibu Stacy, Mariza, Micro Audio Waves, Miniman, N'Toko, Nucleus Roots, PiersFaccin, Puppetmastaz, Saïan Supa Crew, Seeed, Skalpel, Spontane, Sunshine, Susheela Raman, Teitur, The Chalets, The Delilahs, The Herbaliser, The Sunday Drivers (& l'Orchestre d'Auvergne), Three& A Quarter, Venus et l'Orchestre d'Auvergne, Wax Tailor, Wraygunn.