MUSIC EUROPE DAY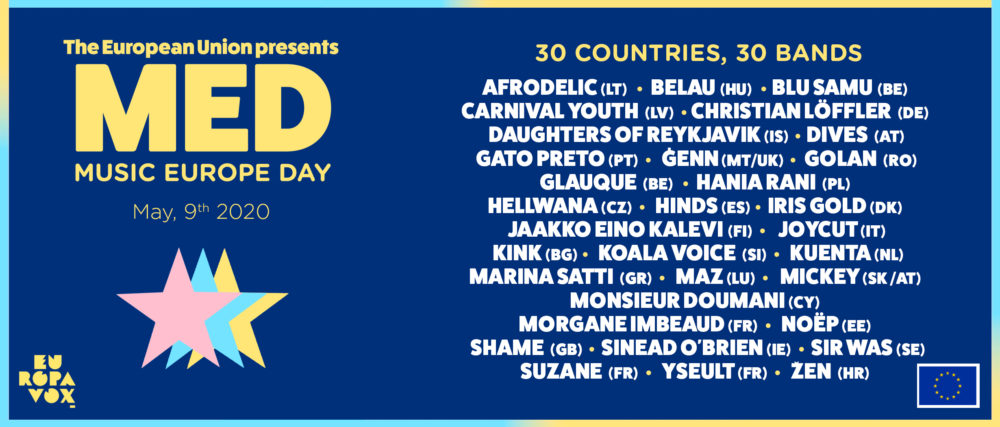 On Saturday May 9th, from 2pm to 12am, the European Union will present Europe Music Day, a project by Europavox. A great musical journey for this day that unites Europeans, with around 30 concerts and talks with artists from as many different countries !

Roxy Music sang A Song For Europe, and it was certainly not a swan song. Almost forty years after Roxy Music's track was released, and 70 years – to the day – after the EU's founding declaration by Robert Schuman, Europeans are facing an unprecedented crisis. Every day, caregivers, teachers, researchers, friends, neighbours are all showing, in their own ways, how solidarity is expressed within the European Union. To forget the lockdown for a short time, and to stay united, the European Union and Europavox are proposing a day to pay tribute to solidarity, through musical creativity in Europe.

Recorded by whatever means available and with plenty of imagination, around thirty artists from thirty different countries will pass each other the mic to share their music, their optimism and their vision of Europe. We have seen since the beginning of this massive lockdown: Europe has never exchanged so many songs, shared its sounds so widely, and claimed such unprecedented solidarity in music. JD Beauvallet, renowned French journalist, will oversee the editorial coordination of this day. The musicians will discuss the place where they live, tell the stories behind their music, their country, their city and their tour memories across Europe. They will also present original live sessions from their homes – alternating styles, personalities and puffs of shared emotion.

30 artists from 30 different countries will pace this day, introduced by a very special guest: the French pop star ÉTIENNE DAHO. In a long and friendly interview, Etienne will share his current feelings and emotions, his vision of Europe and mostly his infinite love for what is the main theme of this day : music.

 AFRODELIC (LT), BELAU (HU), BLU SAMU (BE), CARNIVAL YOUTH (LV), CHRISTIAN LÖFFLER (DE), DAUGHTERS OF REYKJAVIK (IS), DIVES (AT), GATO PRETO (PT), ĠENN (MT/UK), GLAUQUE (BE), GOLAN (RO), HANIA RANI (PL), HELLWANA (CZ), HINDS (ES),IRIS GOLD (DK), JAAKKO EINO KALEVI (FI), JOYCUT (IT), KiNK (BG), KOALA VOICE (SI), KUENTA (NL), MARINA SATTI (GR), MAZ (LX), MICKEY (SK/AT), MONSIEUR DOUMANI (CY), MORGANE IMBEAUD (FR), NOËP (EE), SINEAD O'BRIEN (IR), SIR WAS (SE), SUZANE (FR), YSEULT (FR), ŽEN (HR)

Offered throughout the day on Saturday May 9th, this program, conceived as a great journey between countries and songs, will be widely broadcast on social media, on Europavox's Facebook pages (the media and festival pages), as well as the pages of the European Commission Representation and the European Parliament Liaison Office in France.

Join us on the Facebook Event ! 

"
"