JOIN US >>> SUBSCRIBE TO OUR NEWSLETTER!
EUROPAVOX History
Since 2006, Europavox Festival (Clermont-Ferrand/France) is entirely dedicated to the promotion of European musical diversity.
With a strong experience and a European network, Europavox Festival ambition is to talk about Europe in a positive way, with a human approach and prove that « unity in diversity » can apply to young Europeans in creative fields such as music.
EUROPAVOX PROJECT LED BY EUROPAVOX FESTIVAL AND GATHERING 7 EUROPEAN PARTNERS AIMS TO DEVELOP THIS APPROACH AT A EUROPEAN LEVEL
EUROPAVOX Project brings together over 4 years, 7 European Partners of 7 different countries around three main activities, each contributing complementary to promote European musical diversity, professionalization and innovation in professional practices and public uses.
EUROPAVOX cooperation project has been rewarded by the Creative Europe program of the European Union.
EUROPAVOX PROJECT HAS BEEN REWARDED BY THE CREATIVE EUROPE PROGRAM OF THE EUROPEAN UNION

COOPERATION
Based on an historical relationship, 7 partners from 7 different countries were brought together to design, carry and deploy the EUROPAVOX PROJECT. These contemporary music venues and festivals have been working together for many years to defend their artistic choices and the European musical diversity.
–    Over 40 European media, to promote and disseminate actions and results across the entire continent
–    Different European ecosystems in the music industry representing nearly 200 economic players, to ease the implementation of collaborations and enable our projects to have strong local roots
–    Public partners in each participant country supporting our approach in local cultural policies and giving additional financial support
–    Several European startup incubators for digital and creative industries to diversify and cross skills, create opportunities of experimentation and anticipate changes in professional practices and public uses
GUIDELINES AND ACTIONS
Extending over a 4 year period, our project is structured around three main activities, each contributing complementary to promote European musical diversity, professionalization and innovation in professional practices and public uses
Our activities are following 3 STRATEGIC GUIDELINES:
–    An online presence combined with an efficient digital strategy and Festivals with a strong local implantation
–    A double approach both quantitative and qualitative to organize visibility and export development of European contemporary music scene
–    The fostering of experimentation and risk-taking culture that capitalizes on the proven expertise of partners and a coordinated professional European network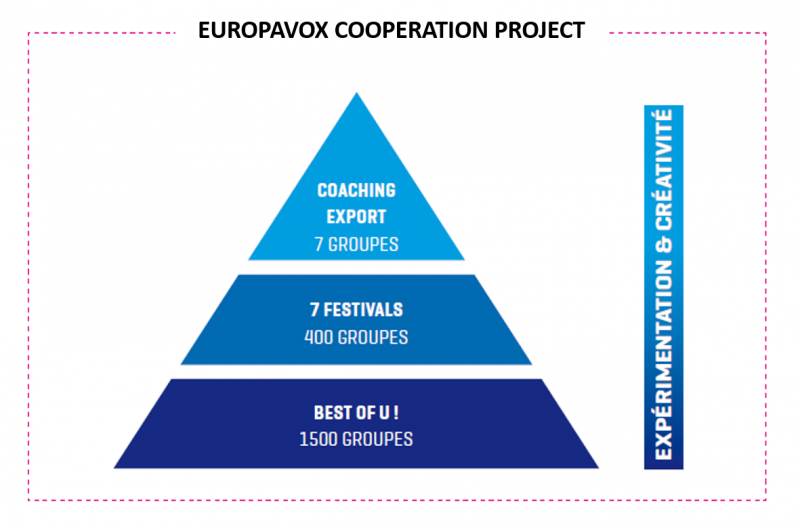 EUROPAVOX.COM : THE FIRST EUROPEAN ONLINE MEDIA
Organizes visibility and accessibility of over 1,500 European bands on the web, both for professionals of music industry and general public.
Development of the first website dedicated to the European musical diversity, offering a collaborative multicultural, programming updated regularly by professionals and journalists in every European country.
7 FESTIVALS, POPULAR AND FESTIVE
Providing on stage a selection of 400 European bands to bring together European youth around an international and interactive live music experience.
7 annual 1 to 4 days festivals, produced by the each partner in collaboration with their local ecosystems, an exclusively European programming that meets standards of excellence and huge diversity of nationalities.

COACHING TO EXPORT FOR A SELECTION OF EUROPEAN BANDS
Demonstrating a high export potential, in order to develop sustainable careers and international activities
A selection of musical bands able to lead a career to export, an artistic coaching in a European circuit, one or more musical events gathering the 7 selected bands inside and outside the borders of Europe.
AND transversally to the 3 main dimensions of the cooperation project,
A SPACE FOR EXPERIMENTATION AND CREATIVITY
Cooperating with digital players in order to anticipate new uses and develop new digital services and resources.
A partnership with digital start-up incubators, a space for experimentation offering a selection of start up to test their prototypes on each dimension of the cooperation project and in an international environment, a space for creativity bringing together professionals, startups and journalists in order to stimulate the expression of new needs, identification of new uses and innovative devices.
Contact us: project@europavox.com